Exhibition «Las Vegas Custom Knife Show» 2019
15 january 2019 г.
On January 26 and 27, 2019 in Las Vegas will be held an annual Las Vegas Custom Knife Show dedicated to custom knives and related fields of applied art.
The founder of Las Vegas Custom Knife Show (LVCKS) is company Fifty Fifty Productions — one of the largest organizers of events in the US. The event is held under Rikeknife, Microtech and Marfione Custom Knives auspices.
Among the participants of LVCKS 2019 there are a lot of interesting and distinctive knifemakers from around the world, we will tell about some of them.
Van Barnett is an American artist, watchmaker, jeweler, blacksmith and knife master with 35 years of experience in applied art. His knives are surrealistic jewelry and sculptural works in which the Author uses his own production Damascus, precious metals and precious stones. Barnett's works have conceptual semantics, for example, a series of typesetting installations called Time Machine is devoted to the work of HG Wells and executed in the aesthetics of Victorian fiction.
Herucus Blomerus and Andre de Villiers are knifemakers from South Africa. South Africa is generally distinguished by its distinctive style in everything, and knives are no exception. Blomerus prefers safari aesthetics, animalism and strict forms, de Villiers, in turn, specializes in overbuilt-style and makes powerful cinematic tactical knives. Both Masters also make stylish gentlemen's folders.
Texas maker Sebastjan Berenji and his company Borka Blades — the quintessence of the American style in all its brutal glory. In the same segment are our famous friends Begg Knives and Marfione Custom Knives. They are also members of the show.
Sergio Consoli is an Italian maestro of knifemaking, his work can be safely attributed to the neoclassic of knife fine-art. The works of Sergio — what is called "collector's grail" — the decoration of any knife collection.
Kaj Embertsen — Swedish Master, blacksmith and knifemaker. Creates amazing knives from Damascus own production. His French counterpart, Patrick Famin, also works with Damascus steel, which he makes himself, but he does knives in a completely different style.
Japanese veteran of knifemaking — Koji Hara makes incredible handmade folding knives, which is decorated with complex bas-reliefs, engraving, inlay with precious materials and mother of pearl. Honorary member of the American Guild of Naifmeykerov and a world celebrity, his creations should be seen with my own eyes.
Elizabeth Loerchner is hereditary knifemaker from Canada demonstrates a truly feminine look at the knife art, her laconic and elegant folders have a hypnotic appeal. Very cool! Her father and mentor Wolfgang Loerchner also takes part. The works of Wolfgang and Elizabeth are very interesting to study live, as the works of a mentor and a student.
Las Vegas Custom Knife Show also takes part our project Maria Stalina Knives. At the exhibition, we will show a new version of the author's folding knife Cyrax from the Manufacture by Stalina and Lomachenkov and many other interesting knives!
And this is only a small part of the Masters and knife companies that will take part in LVCKS.
Address and venue:
Hotel Casino BALLY'S LAS VEGAS HOTEL
3645 Las Vegas Boulevard South
Las Vegas, NV 89109
Telephone for information: (702) 967-4111
The event is held in the Jubilee Ballroom (Jubilee Ballroom) on the second floor of the Jubilee Tower. Elevators are located in the far south-western part of the casino.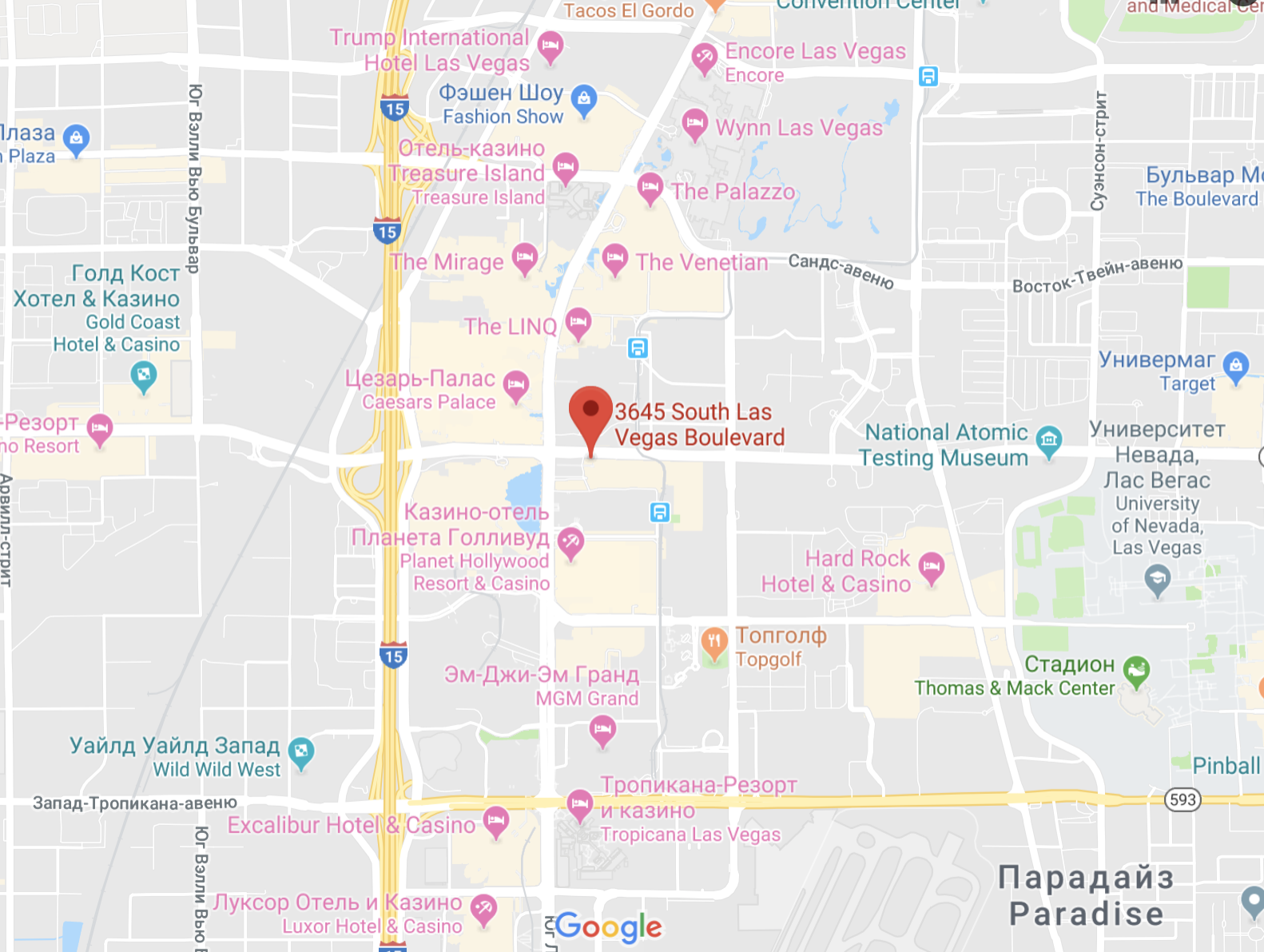 Dates and times:
Saturday January 26, 2019
11:00 — Entrance via VIP passes and guild member IDs
13:00 — Entry with one-day tickets and "collector's passes" (bonus ticket)
18:00 — End of the show
Sunday January 27, 2019
10:00 — Entrance for all ticket prices
15:00 — closing the show
Tickets:
VIP ticket — $ 35
Options:
Passage on both days of the event;
Early access at 11:00 on Saturday;
Participation in the draw in the draw of the main prize and the daily lottery.
You can book online or buy on-site on the day of the meeting. PAYMENT ONLY BY CASH.
Collector's Pass (COLLECTOR PASS) — $ 25
Options:
Passage on both days of the event;
Participation in the draw in the draw of the main prize and the daily lottery.
Day Pass (DAY PASS) — $ 20
Options:
One day access;
Participation in the daily lottery.
The exhibition of knives of 2019 Las Vegas Custom Knife Show will play out the new unique knife of American nail maker Bill Ruple. If you are spending a weekend in Vegas, this event should not be missed. It is not about weapons, it is about the complex and noble art!
P.S. And it is not a shame to tell about these impressions to relatives;)
Other news
15 april 2020 г.
Corona time
The online-store Maria Stalina's Knives continues to function during the difficult period of the COVID-19 pandemic.